So why not start off my first blog entry with a haul review?

So, in June of 2007 I moved to Lexington, NC and just last month found out that there is a MAC store within 15 minutes from me in Winston-Salem NC. And conveniently enough I am taking a night class once a week in W-S. So basically before I go to my night class I make a quick pit stop at the MAC counter and these are all the goodies that I have acquired thus far. Assuming that anyone reading my blog halfway keeps up with MAC you can tell which products are shown above, but I will list them anyway- I think you can figure out what I'm listing without me having to tell you "starting from the top going clockwise blah blah blah..." No, I'm just going to list them however,figure it out.

Ehm... from the Hello Kitty collection: pallet in "Too Dolly"
lipgloss in "Fast Friends"
lipstick in "Big Bow"
moving on...

~the other 2 shadows are "Trax" and "Beauty Marked"
~the 217 brush
~Liquidlast liner in "Aqualine"
~Dame Edna lipglass in "Possom Nose Pink"
~Plushglass in "Plus Luxe"
~Painterly Paintpot

So, as far as the hello kitty stuff goes I really like the lipstick. It is a very beautiful hot pink color with shimmer and last a fairly long time without reapplication. However, the one thing I absolutely hate about it is the shimmer feels SOOOO clumpy and goopy on my lips. I almost feels like that cheap lipstick crap you buy from the dollar tree. It's the nastiest feeling and even with a good, smooth lipgloss on top it still feels gross. But it does have an impression of hello kitty on the lipstick itself, which, even though I'm not a fan of the cat, is very cute.



See?
Now the hello kitty lipgloss in "Fast Friends" I find rather disappointing. Purple is my favorite color, and I'm a bit obsessed with all things purple so I was hoping that this would be a very lightly tented lavender color I could wear on top of lipgloss without looking like to much of a freak. Well, it goes on smooth, is not sticky, has lovley shimmer but has not fucking hint of tint to it what so ever and I thik that sucks. The orange gloss called "Nice to be Nice" (which I don't have) does have a slight hint of orange to it and so does the pink kitty gloss called "Nice Kitty" so I feel like I got ripped off on the purple gloss. But the shimmer

is

pretty so it makes a nice translucent lipgloss if that is what you are looking for.

Moving on to the eyeshadow palette...I acutally asked for the "Lucky Tom" pallet at the MAC store, but stupid me didn't check until I had gotten in the parking lot at the college to see that I had actually been given the "Too Dolly" palette. I've decided to keep it because I actually do like it. The colors (in order from left to right) on the palette are "yogurt" "romping" "too dolly" and "statley black". Romping is very pigment and almost seems to me to have a slighty blue undertone to it and goes on very smoothly. With Too Dolly it's a bit more translucent than I would like but if you put on enough it shows up nicely. Yogurt, well, I can't really tell if I like it or not because I am so fair skinned that it doesn't show up on me but I do use it as a matte highlight. Now, Statley Black is a hard color to blend with. I really have to add color and blend constantly just to get it to barley show, but once I get the effect I'm looking for it's quite a nice shimmery black. Now-moving on from the friggin hello kitty stuff.

The plushglass is awesome, I really love it. It looks great on top of the hello kitty lipstick and by itself. Its a very sheer hot pink tint with shimmer (which I can't feel, and I love that). It also makes my lips tingle a slight bit, more like a cooling sensation and has a nice smell to it.

I think that the best thing I have gotten so far from MAC is the Dame Edna lipglass in "possom Nose Pink'. It is the best lipgloss I have ever owned. It is a gorgeous hot pink color, but not to bright. The shimmer is excellent and I can't feel it at all. It's not sticky and smells fantastic. I wear it often and I think you should get it before MAC discontinues it. Plus, the lid is red and purple, my 2 favorite colors together. LOVES IT!

Ok, so enough with the lipstuff. Here are some swatches.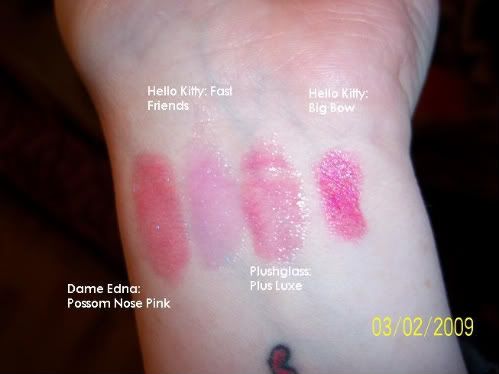 So the 2 MAC shadows I bought I really love. Beauty Marked looks like a dark purple with golden shimmer but when applies it looks to me like a matte black with golden purple shimmer. I was disappointed at first because it was not what I was expecting and didn't look that way to me when I swatched it at the counter, but I actually really like it now and use it almost everyday. The Trax shadow is this kind of smoky purple color with a hint of that golden shimmer and in certain lighting it almost looks pinkish. I'd recommend these shadows to anyone who doesn't like very bright shadows but likes color because they are beautiful together but not extremly bright-almost earth tone.

I had been eying the aqualine on the MAC site for months but as soon as I saw it the counter I had to have it. It's the most gorgeous shade of teal/aqua ever. I have never seen a liquid liner in a shade like that before and I think it's absolutly fantastic. The one thing I hate about it is that it takes foever to dry but once it does it doesn't smudge one bit and is actually kind of difficult to wash off. I had to use eye makeup remover, soap and them another kind of makeup remover to get it all off.

OK, so almost done! I got painterly paintpot because if any of you ever watch makeup tutorials on youtube, then you know almost everyone and their mother uses painterly paintpot, so I had to try it out. I already have Urban Decays Primer Potion and I really love that stuff but I hate that it takes a while to dry and the packaging fucking sucks. But with PPP it goes on very smoothly, dried instantly and the packaging is perfect. There are only 2 things I found that I don't like about it. It is a littler harder to blend with than UDPP and it is about half a shade darker than my skin tone, so I always have to put a lighter eyeshadow over it first to keep it from showing through and making my eyes look diseased. But overall, fantastic stuff.

Last but not least the 217 brush. I think this brush is the holy grail of makeup bbrushes. Everyone on youtube or anyother makeup site out there seems to have this brush so I had to have it to, and it's worth the $14. It makes blending sooo much easier and putting shadow in the crease area. It's really a multiuse brush because you can use it for eyeliner, crease, and blending depending on how you use it. So if anyone is looking to buy a brush from MAC, I would go with the 217 first.

The rest of the swatches(all of these are overtop the PPP)



Well, thanks for sitting through my lenghty blog. I'm not sure what kind of feedback and all I will get on here or exactly what I am expecting with this, but I like makeup so much and can't always find reviews out there on stuff that I am looking for. I won't always be doing reviews with high end stuff like MAC and UD because I can't always afford so I'll do stuff on Cover Girl and Revon and crap you can get anywhere as well. Well, I'm tired of typing shit now so I'm going to watch the Dark Knight now. Maybe I'll do a review on that too. Heath Ledger=<3